EWOP Bracelets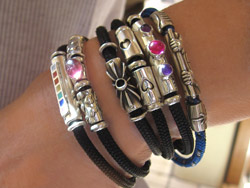 EWOP Bracelets by Ross LewAllen
For Adults and Children
*"Everything's Working Out Perfectly" - Serge Kahili King

Each Sterling Silver bead on the bracelet represents a quality of healing, wellness, or state of being.
Also see EWOP BEADS for more information about the meanings of the beads. And other choices for bracelets.

For sizing, measure wrist add 1 and 1/4 inches.