Welcome to LewAllen & LewAllen Jewelry
LewAllen jewelry is a tradition for those looking for uniquely inspired and meaningful jewelry. Ross LewAllen designed from his heart and much of his inspiration came from the healing arts and his spiritual practice. His enthusiasm and love of life translated into his designs, be it flying, flyfishing, sailing, world travel or spirituality. Ross started LewAllen Jewelry/Earcuff, Inc. in Santa Fe in the late 1970â€
TM
s. He invented the earcuff at that time and started a world-wide trend. He opened the Santa Fe gallery in 1983 and changed the lives of many who walked through the door and discovered the magic of Ross and his jewelry.
Laura, Ross's daughter, joined the business in 1987 and brought in a whimsical, fun and sporty touch with her designs. Creative and innovative, Laura continues to carry on the tradition and magic of LewAllen Jewelry that her father started.
The work at LewAllen Jewelry is powerful and unique. We hope youâ€
TM
ll enjoy this online catalogue and we invite you to visit the store when youâ€
TM
re in Santa Fe. Weâ€
TM
d love to meet you!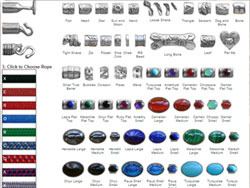 We've got a lot of videos for you to look at. Come on in for a visit to LewAllen & LewAllen Jewelry.
Its a fun place to visit and to work.
Call to order Laura LewAllen's newest designs!